Are you hungry? With nearly 200 vendors offering fresh meats, seafood, produce and cheese, as well as prepared foods from takeaway stalls and sit down tapas-style bars, a trip to the market will reward your taste buds. Early mornings are a relatively subdued experience, but by late morning it's a buzzing frenzy of locals and tourists alike. Arrive before 3pm as many vendors start closing shop in the afternoon, though officially the market is open until 8:30 PM. The market is [mostly] closed on Sunday, and many vendors, including the fishmongers, stay closed on Monday. A map of the market and listing of vendors can be found here.
Find it here: La Rambla, 91, Barcelona
Get there: Liceu stop on the L3 line of the Metro
Hours: Monday – Saturday 8AM – 8:30PM
Restaurant & Bars
Pull up a barstool at one of the Boqueria bars for a snack or drink, but be prepared to wait for a seat. Not to worry, your patience will be rewarded with a memorable meal. Favorites include:
Bar Boqueria
El Quim
Pinotxo Bar
Seafood
From clams to cuttlefish, if it's found in the sea you'll likely find it in the fishmonger area of the market, located in the inner circle of the building.
Produce
Even if you don't have a kitchen during your stay in Barcelona, you can take advantage of the bounty of fresh fruits and veggies, dried fruit and spices. Don't be surprised if you, like seemingly half of the city, end up snacking on your haul while strolling down La Rambla.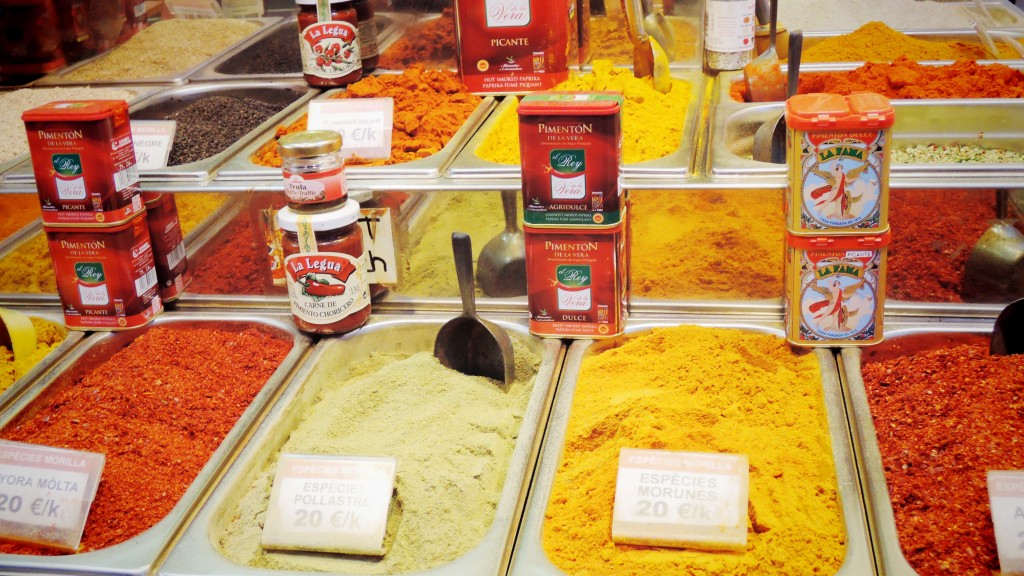 Jamón
Spanish jamón is a food group unto itself, as far as I'm concerned. You'll find several meat vendors specializing in all varieties, from everyday Serrano to the exquisite and pricey, Ibérico de Bellota. Take a small package to go, or snack on a few slices at one of the tapas bars.
Sweet Treats
The majority of the market is brimming with brightly colored, anti-oxidant superfoods, but what's life without a little sugar? Grab a marzipan bon-bon, sweet biscuit, chocolate confection, or a heavenly xuixo (or xuxo), a fried pastry filled with Catalan crème and dusted with sugar.